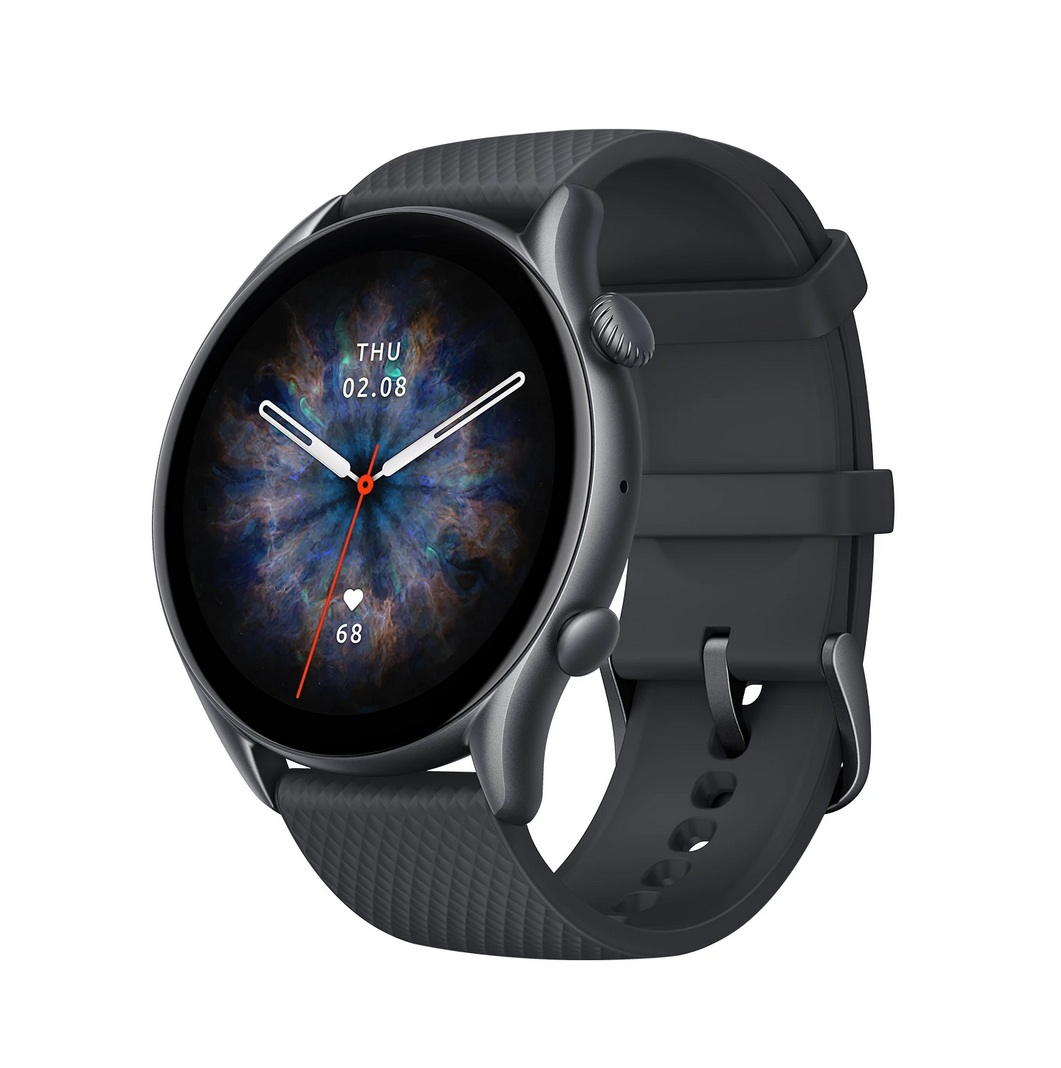 Price:
Rs.
44,000
In stock
In Stock
Photos of Amazfit GTR 3 Pro (Infinite Black)
Amazfit GTR 3 Pro (Infinite Black) Basic Details
Overview of Amazfit GTR 3 Pro (Infinite Black)
Amazfit GTR 3 Pro
Smart Health Made Easy Built to Empower Ultra HD AMOLED Display  Easy 24H Health Management  Powerful Zepp OS & App-support  Classic Navigation Crown 12-day Battery Life. Classic Premium Design Ultra HD AMOLED Display Classic Navigation Crown Light & Thin Aluminum Body.

BioTracker PPG 3.0 Biometric Sensor.
Monitoring of Blood-oxygen, Heart Rate, Stress Levels & Sleep Test 4 Health Metrics in 1 Tap PAI Health Assessment System.
A Next-level Fitness Partner.
150+ Built-in Sports Modes Smart Recognition of 8 Sports PeakBeats Motion Algorithm 5 Satellite Navigation Systems.

Live the Hands-free Lifestyle.
Alexa Built-in & Offline Voice Assistant Music Storage & Playback Bluetooth Phone Calls.

As a smart wearable, it's important for your watch to look great as well as perform great if it's going to complement your outfit. Inspired by classic watches, the super-sleek Amazfit GTR 3 Pro has a round body, made from lightweight yet durable aircraft-grade aluminum alloy, complete with an elegant rotatable crown. The bezel-less design1 seamlessly integrates with the curved glass screen to heighten the immersion, and the comfortable, stylish straps can match outfits from your suit to your workout gear, to make you stand out in style.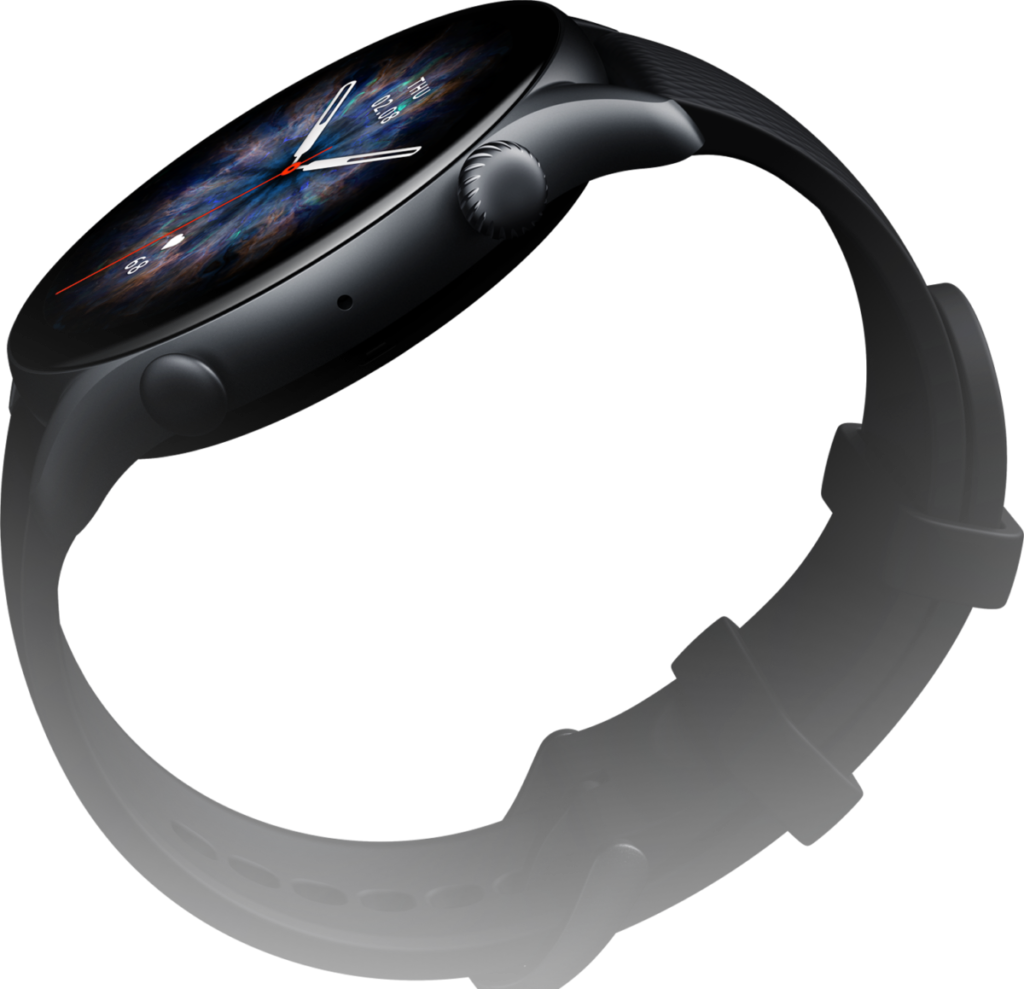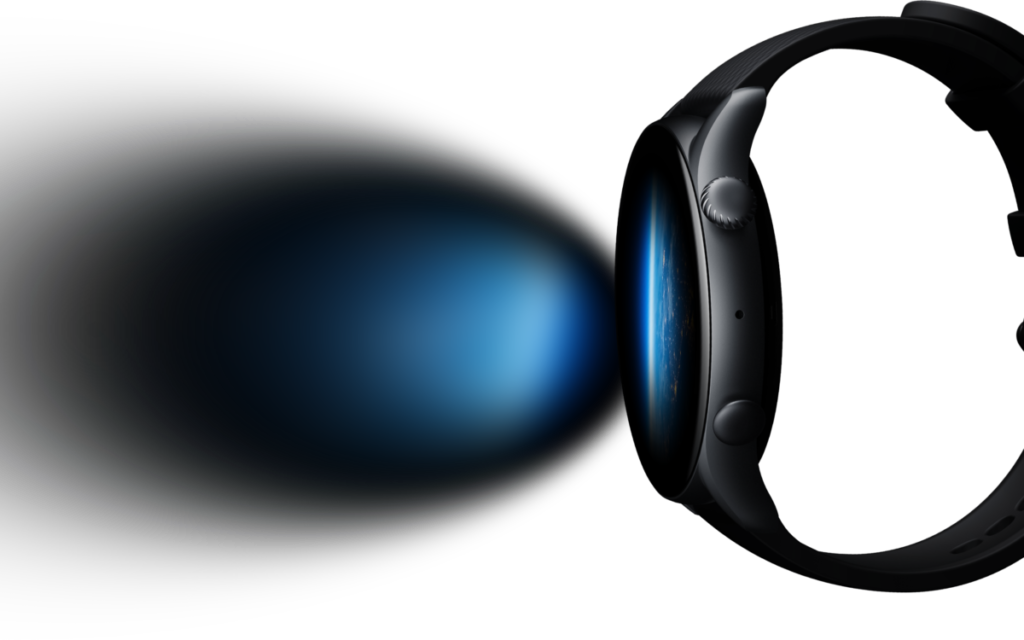 Brown Leather.
Aluminum alloy watch body, leather strap.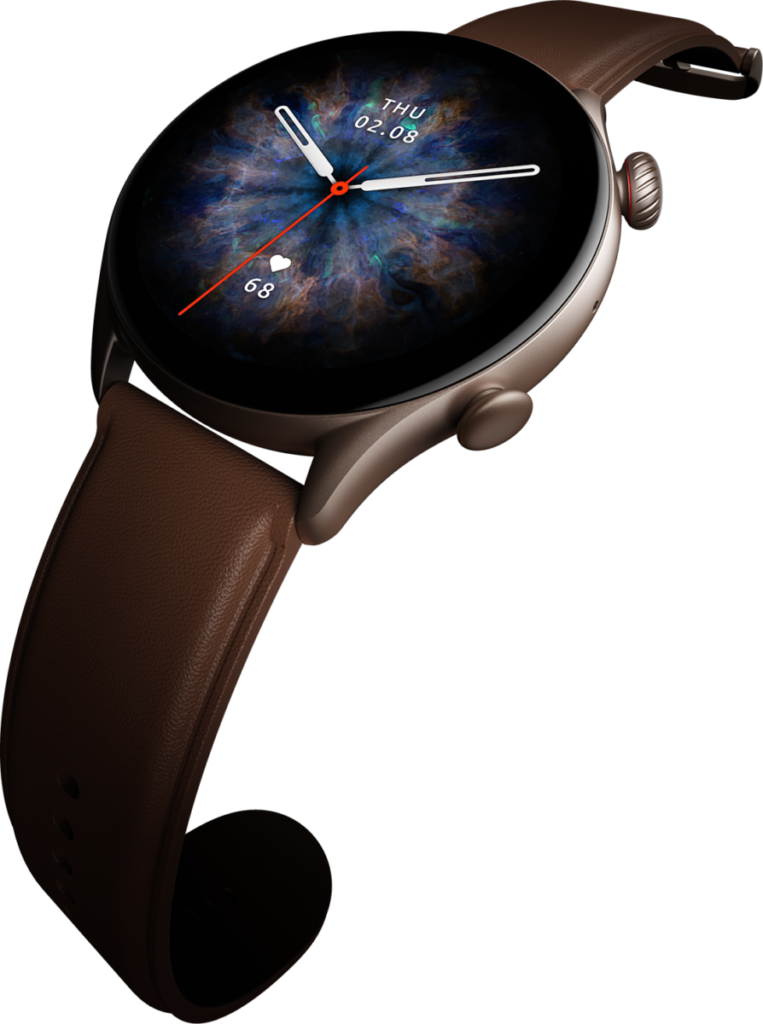 Infinite Black.
Aluminum alloy watch body, fluoroelastromer strap.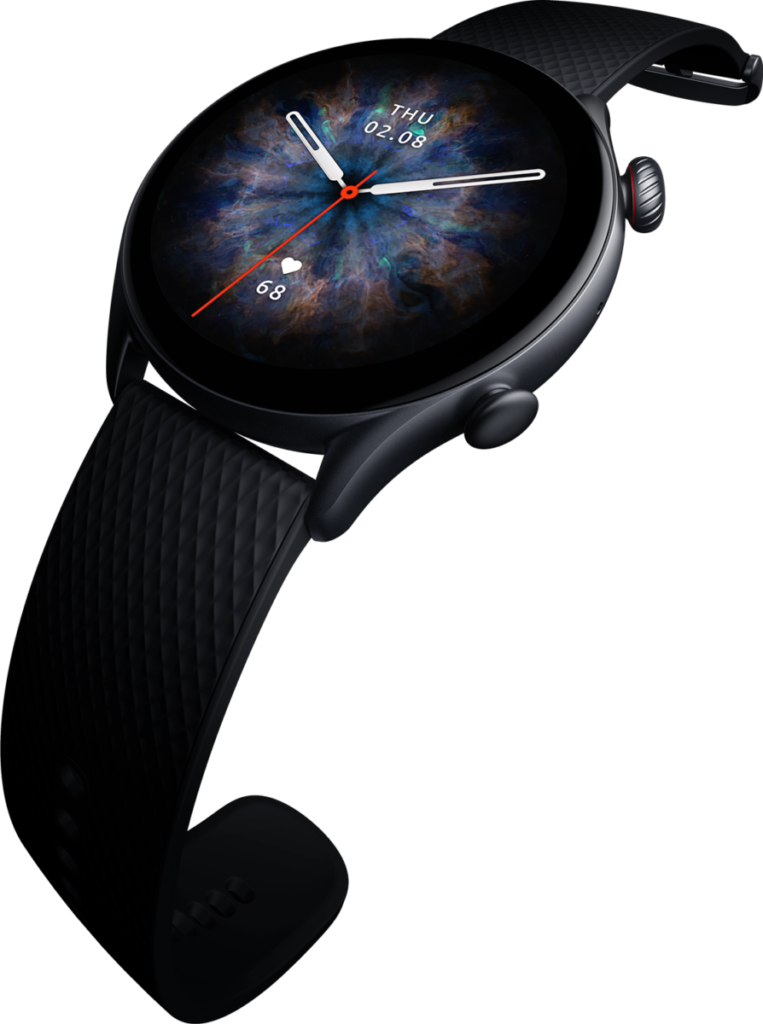 Clear & Easy-to-read Ultra  HD AMOLED Display.
With unprecedented visual clarity that reaches 331 ppi, the large 1.45-inch screen of the Amazfit GTR 3 Pro shows you exactly what you want, when you want it, and is visible even under bright sunlight. The ultra HD AMOLED display boasts a 70.6% screen-to-body ratio, which is among the highest for round smartwatches that are currently available.
Vibrant Watch Faces & Always-on Displays to Suit Your Style.
Match your mood, an outfit or the occasion with a wide selection of more than 150 stylish watch faces, all of which have a matching always-on display . Want a more high-tech feel? Step into the future and choose from 15 animated watch faces. Prioritize preferred features with 23 editable watch faces  or even upload your own photo as the background image for true personalization.


Get the healthdata that matters to you more accurately and efficiently with the Amazfit GTR 3 Pro. The watch's advanced 6PD (six photodiodes) BioTrackerPPG 3.0 biometric sensor can track multiple health metrics at the same time and makes more efficient use of optical light.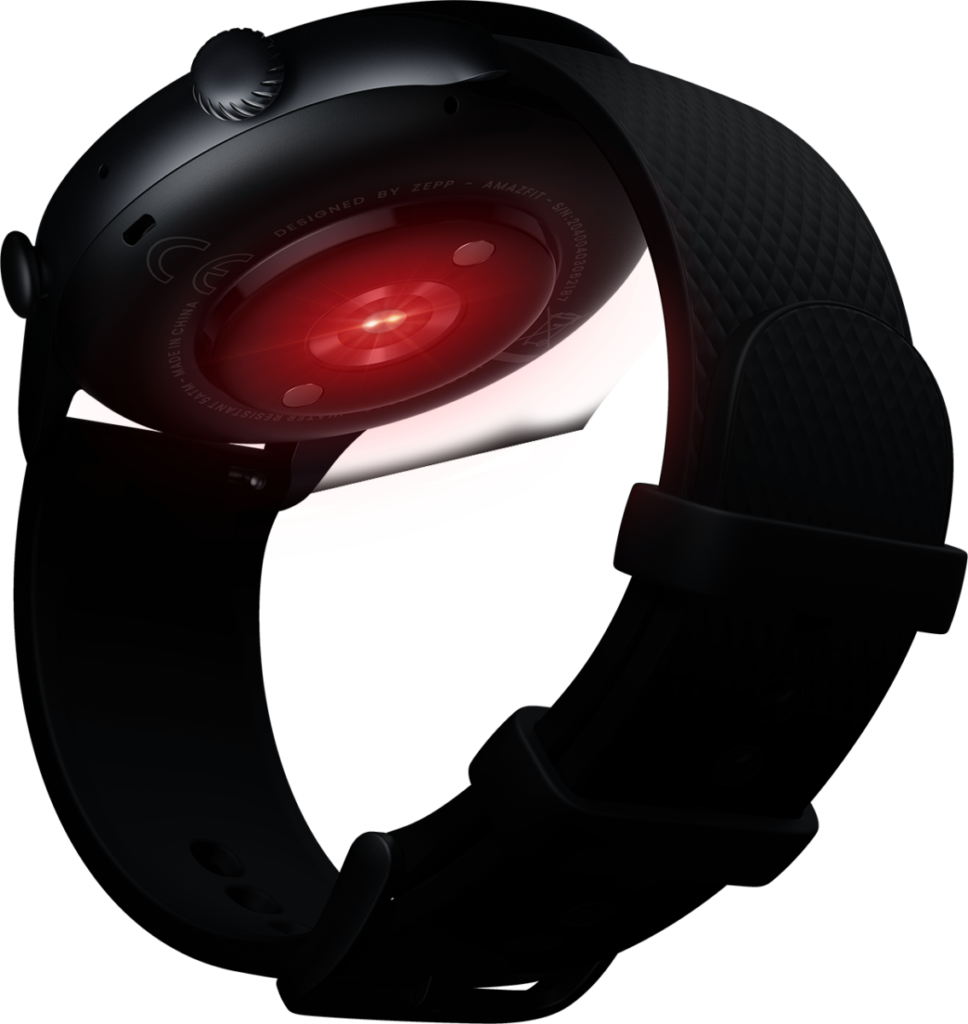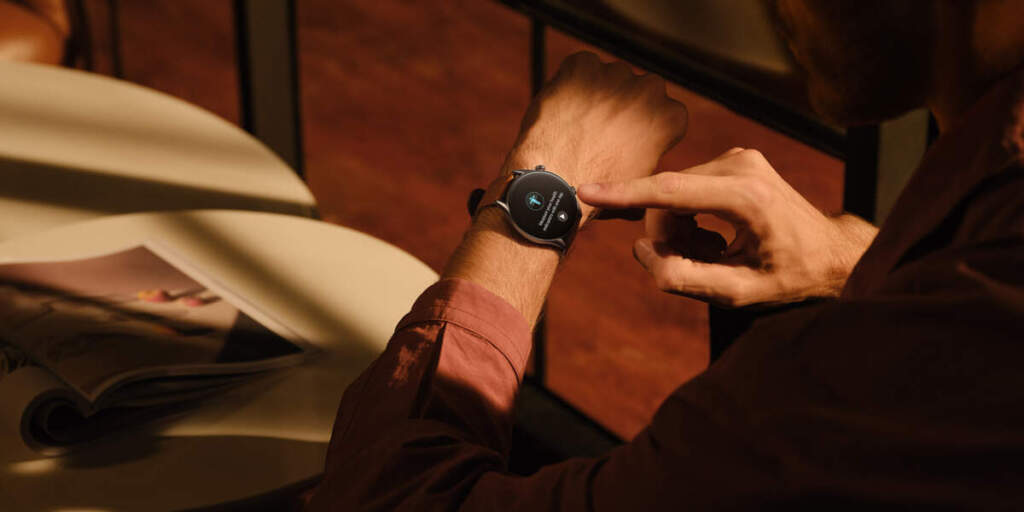 Test Four Health Metrics  in One Tap.
Welcome to smart health made easy. With the Amazfit GTR 3 Pro you can test your heart rate, blood-oxygen saturation, stress level and breathing rate in a single tap of the watch, for a result in as little as 45 seconds. To easily understand your condition without cycling through individual apps, quickly get the data you need in one tap and then get on with your day. Take a Breath Wearable devices don't often support monitoring of breathing rate, but it's an important health metric – with overly slow or fast breathing rates being common symptoms of various health problems. The Amazfit GTR 3 Pro enables easy one-tap measurement of this important health metric.Smart 24-hour Monitoring of Blood-oxygen Levels Recognizing the importance of the role blood-oxygen saturation (SpO) levels play in human health, the Amazfit GTR 3 Pro's advanced biosensor is able to automatically monitor your SpO level 24 hours a day, thanks to the new Zepp algorithm. The watch will also send a reminder if it detects your SpO level is too low while in a non-sleep state. Alternatively, whenever you're engaged in intense mental or physical activity, or even just feeling uneasy during your day, initiate a manual SpO test for a result in as little as 15 seconds.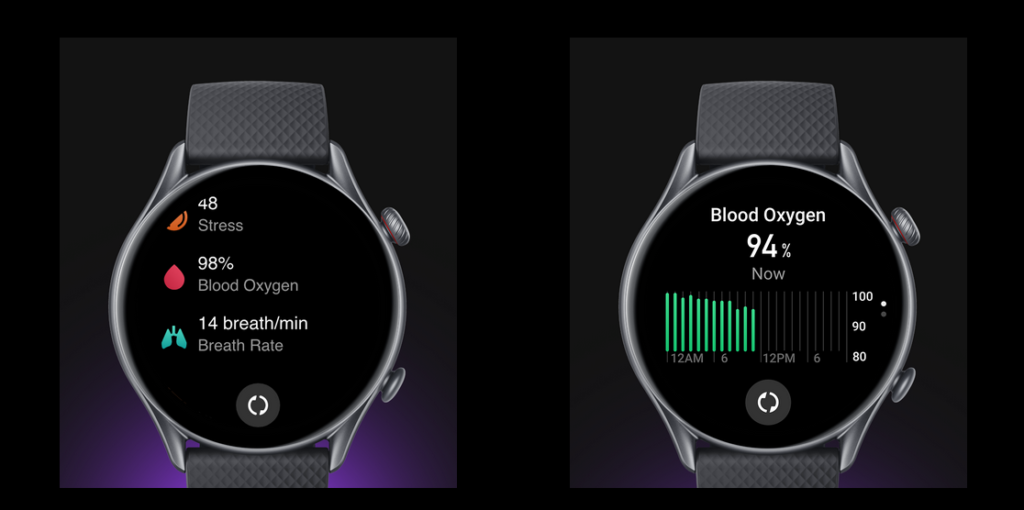 Monitor Heart Rate All Day & While Swimming.
Whether you're an athlete, a professional, or someone who just wants to get more active in daily life, heart health is important. The Amazfit GTR 3 Pro can monitor your heart rate all day – even while swimming. With alerts for abnormally high or low heart rates, as well as tracking heart rate zones so you can optimize your workouts, the watch is a comprehensive and easy-to-use health partner for everyone.A Simple Health Overview with PAI Health Assessment Everyday activities like cleaning the house or playing with your kids can help contribute to your well-being. The Amazfit GTR 3 Pro's PA  Health Assessment System takes these little actions into account, as well as conventional health and activity metrics like heart rate, and converts this complex data into a single-value score unique to each user, for a super-understandable overview of your health.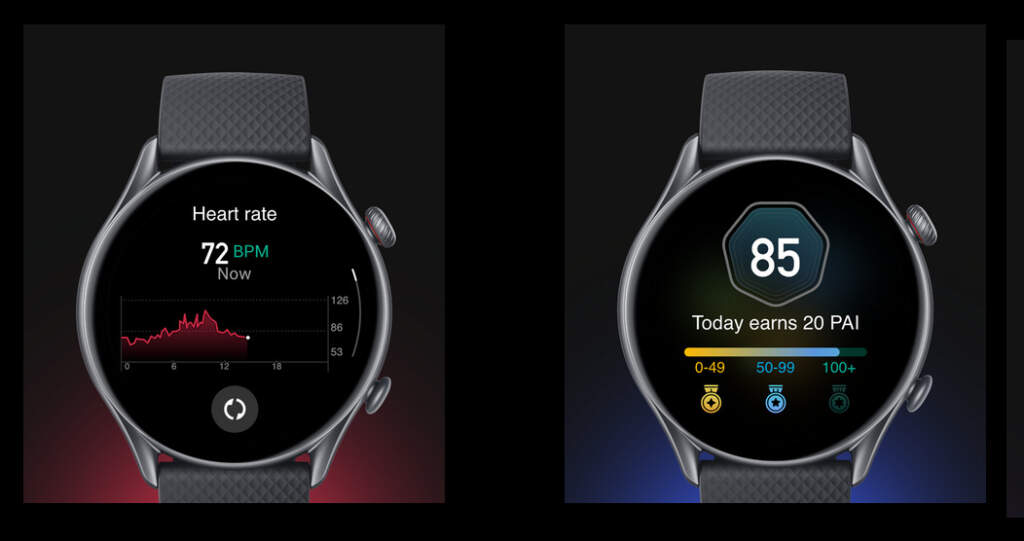 A Next-level Fitness Partner with 150+ Sports Modes.
Whether you're a team player or prefer the focus of working out by yourself, the Amazfit GTR 3 Pro is the ultimate easy-to-use sports smartwatch. With over 150 built-in sports modes to suit your choice of activity, the watch can track metrics like heart rate, calories burned, and more.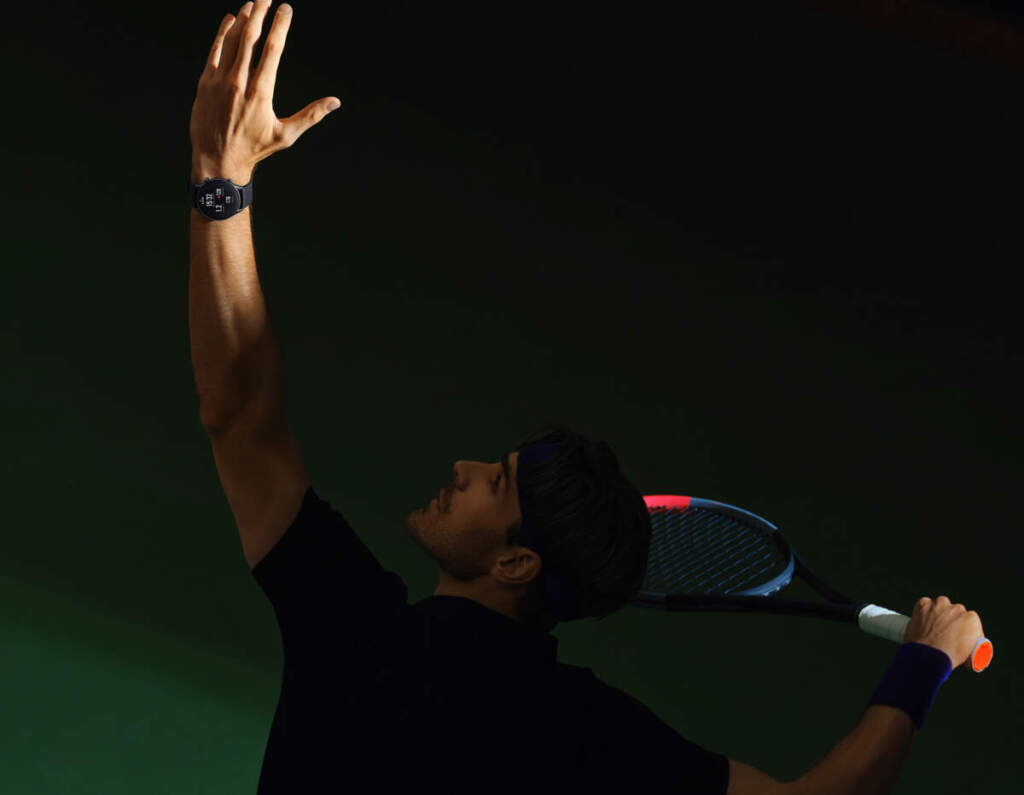 Take a Dip with 5 ATM Water-resistance
The Amazfit GTR 3 Pro has achieved a water-resistance grade of 5 ATM, so you can enjoy the sea or take a dip in a pool without worry.
It's About the Journey, Not the Destination
The watch has a built-in barometric altimeter to help keep an eye on the altitude and air pressure of your outdoor activities, and supports GPS, GLONASS, Galileo, BDS and QZSS satellite navigation systems to accurately track your route.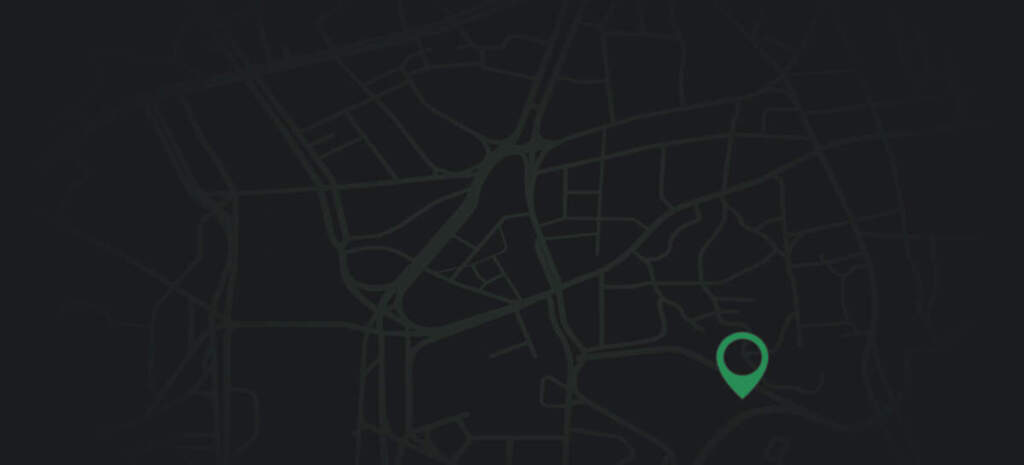 Compete Against Yourself
Bored of running alone? Race against yourself by engaging the Virtual Pacer. The watch will display an icon to represent one of your previously-recorded runs, along with another icon to show your current performance, to give you a target to beat as you try to get better with every run.
The Amazfit GTR 3 Pro.
brings a smooth and simple user-experience.Quickly access the data you need and conveniently transition from one feature to another, with a smartwatch that does the basics better than ever.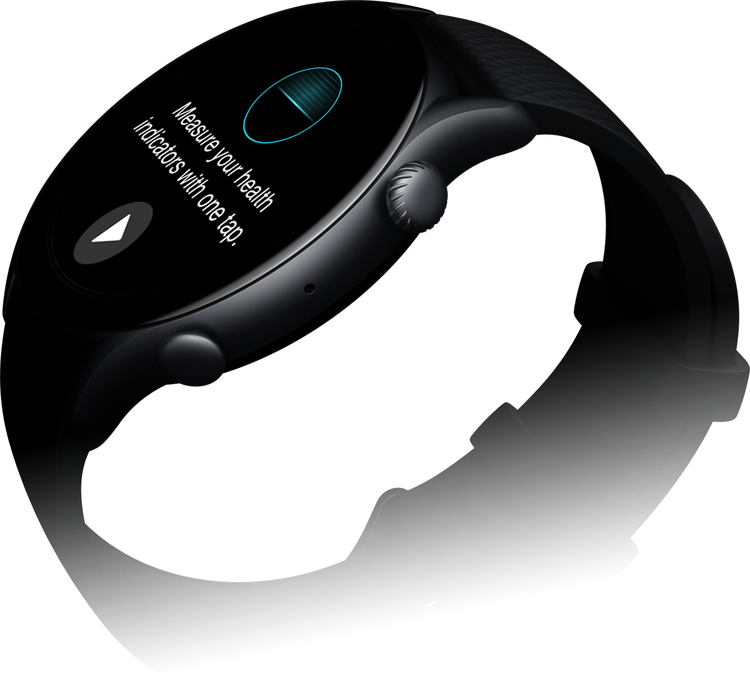 The best smart devices integrate easily into your lifestyle and make everyday activities more convenient. The Amazfit GTR 3 Pro is a reliable, versatile and advanced lifestyle partner that is there for you whether you're going to work, the gym or out with friends.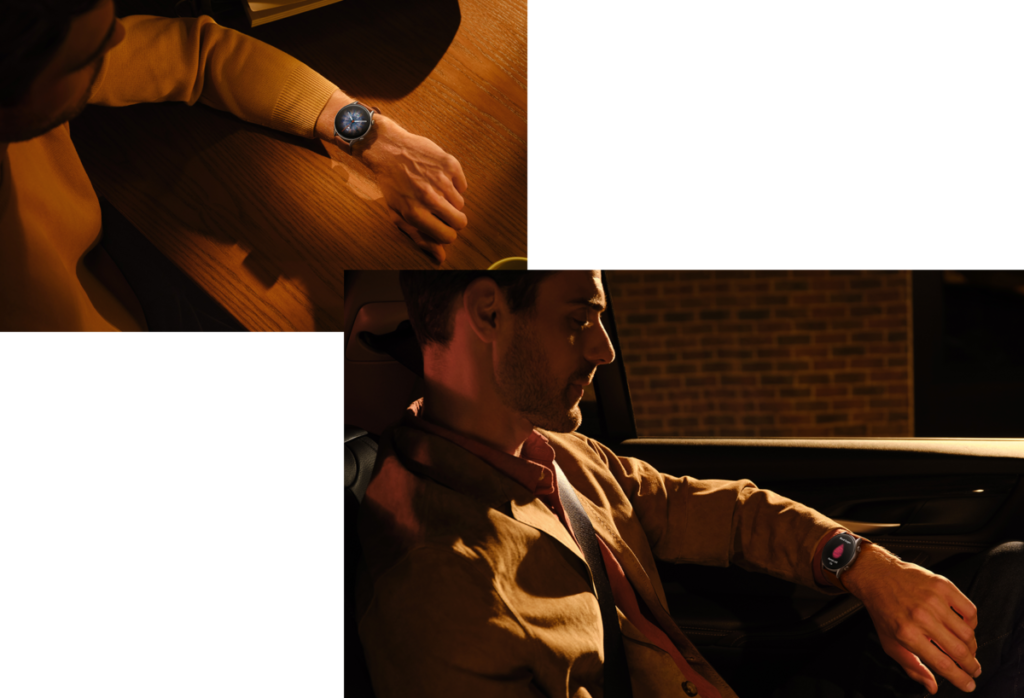 Endurance That Won't Let You Down.
If you're packing for a business trip, save space in your case and leave the Amazfit GTR 3 Pro's charger at home without worrying about the battery running out. The watch packs an extensive list of super-powerful features into its slim and light body, and yet still has enougendurance to last for up to 12 days a single full-charge with typical usage.

Listen to Your Music & Receive Bluetooth Calls
When you're out for a walk, working out, or seeing friends, you can leave your phone in your pocket.Through Bluetooth connection to your phone, the Amazfit GTR 3 Pro can receive phone calls, and also be used to easily control the music on your phone. You can even store up to 470 songs on the watch for independent music playback.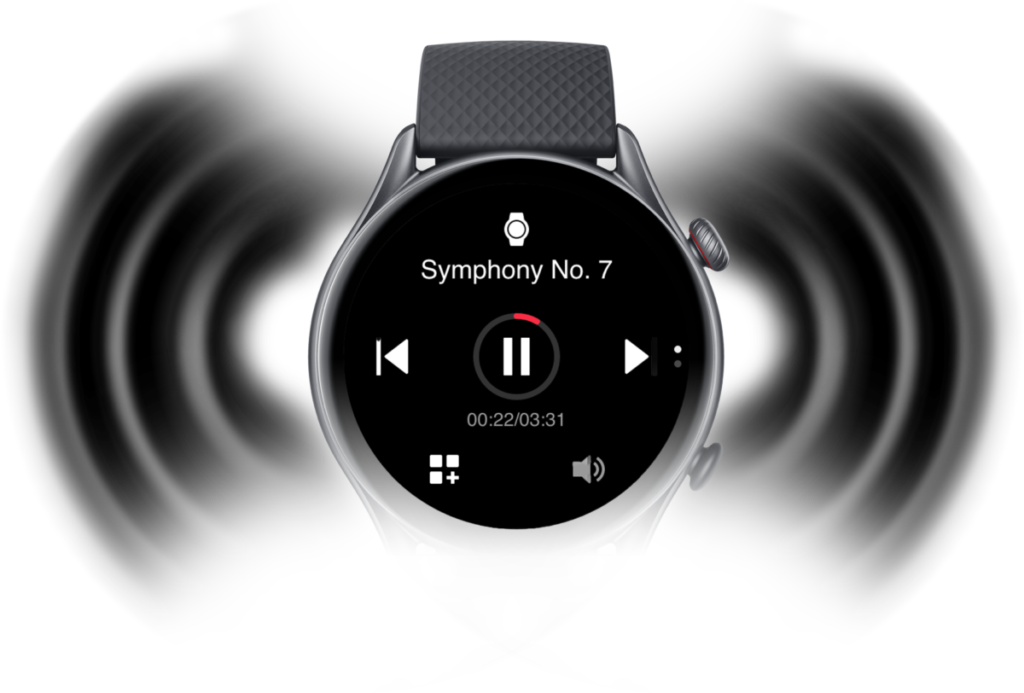 Everyday Tasks, Made Easy
Check the weather, sync your mobile phone calendar to the watch, get notifications for received instant messages, and more. Make daily life more convenient with the Amazfit GTR 3 Pro.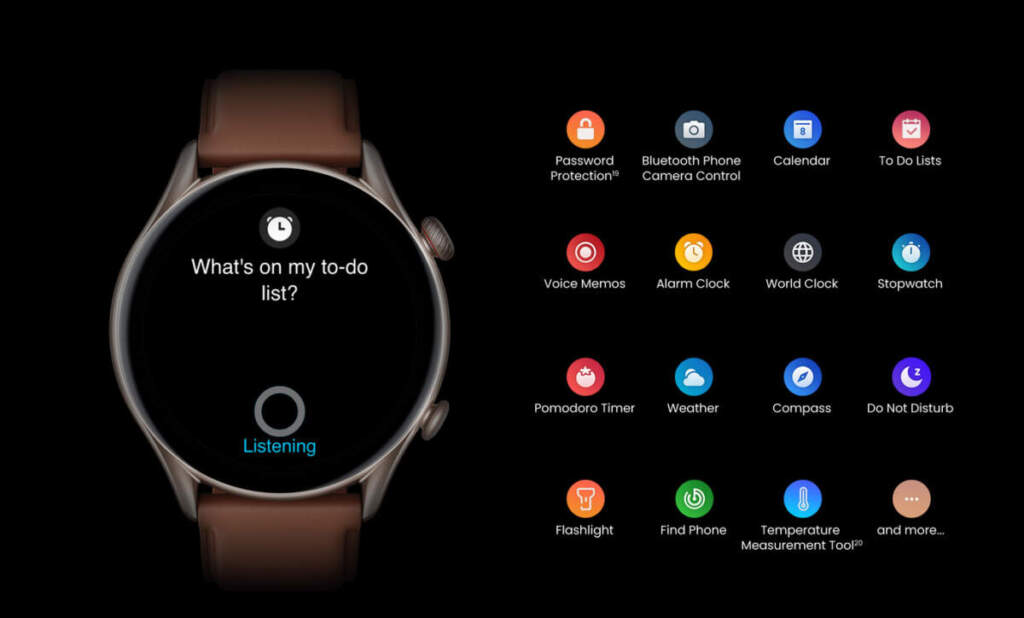 Specifications and Features of Amazfit GTR 3 Pro (Infinite Black)
| | |
| --- | --- |
| Dimension | 46x 46x 10.7mm |
| Weight | 32g |
| Battery | Battery Capacity 450 mAh (typical value) Charging Method Magnetic charging base Theoretical Charging Duration Approx. 2 hours Typical Usage Scenario Battery Life Up to 12 days Battery Saver Mode Battery Life Up to 30 days Heavy Usage Scenario Battery Life Up to 6 days GPS Continuous Usage Scenario Battery Life Up to 35 hours |
| OS | Android 7.0 and above, iOS 12.0 and above |
| Connectivity | Bluetooth 5.0 WLAN 2.4GHz21 |
| Display Size | 1.45" inches, Sensors Health BioTrackerTM3.0 PPG biometric sensor (supports blood-oxygen, 6PD + 2LED) Movement Acceleration sensor, Gyroscope sensor, Geomagnetic sensor, Barometric altimeter, Ambient light sensor, Temperature sensor |
| Display Colours | AMOLED capacitive touchscreen, 16M colors Resolution 480x480 PPI 331 |
| Body Colours | Brown Leather , Infinite Black |
| Other Features | GPS, GLONASS, Galileo, BDS, QZSS Body Material Aluminum alloy Buttons 2 Water-resistance Grade 5 ATM |