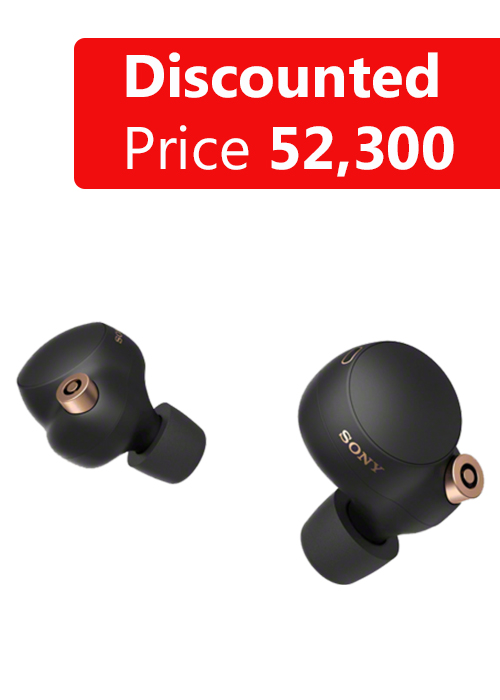 Price:
Rs.
65,000
In stock
In Stock
Photos of Sony WF-1000XM4 Wireless Noise Cancelling Headphones (Black)
Sony WF-1000XM4 Wireless Noise Cancelling Headphones (Black) Basic Details
Overview of Sony WF-1000XM4 Wireless Noise Cancelling Headphones (Black)
Sony WF-1000XM4.
Your sound. Nothing else. An exceptional listening experience that's tailored just for you. The WF-1000XM4 truly wireless headphones take industry-leading noise canceling and audio quality to the next level. Made to fit every ear, they offer a personalized experience that adjusts to every situation.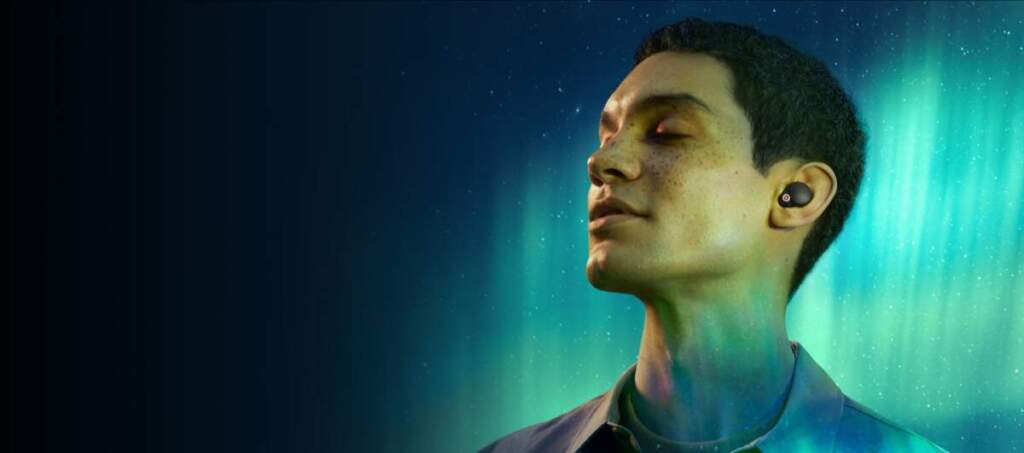 Integrated Processor V1.
Specially developed by Sony, our new Integrated Processor V1 takes the noise canceling performance of our acclaimed QN1e chip and goes even further. Improved noise canceling performance and Bluetooth 'System on Chip' technology delivers the industry's highest level of noise canceling yet uses less power.
High performance dual noise sensor microphones.
Two noise sensing microphones per ear – one feed-forward and one feed-back  on the surface of the headphones catch more of the ambient sounds of your surroundings, whether it's in-flight noise, city traffic or office chatter.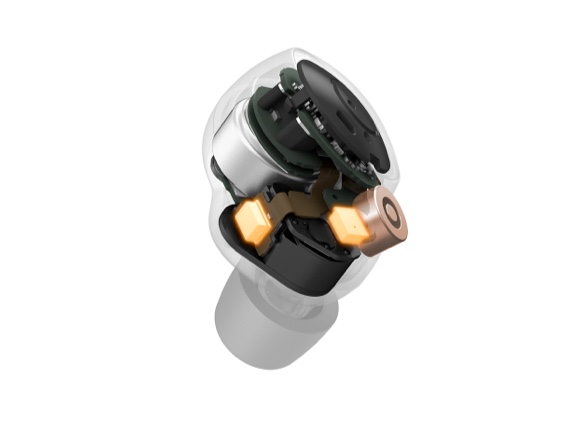 New 6mm driver unit.
A newly designed 6mm driver unit, featuring a 20% increase in magnet volume, gives you improved performance in low frequencies. It also enhances noise canceling by generating a high-precision cancellation signal to the low frequency range.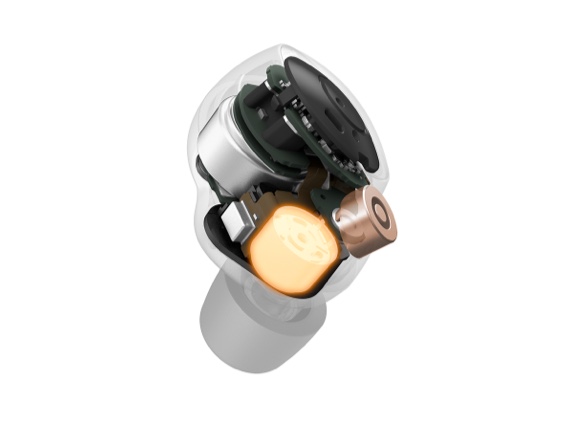 Tips.
Newly developed Noise Isolation Earbud Tips feature a unique polyurethane foam material. Soft and elastic, it maximises the surface contact area between the earbud tip and the ear canal, eliminating gaps to insulate sound and reduce noise. It also improves adhesion to the ear canal for a more stable fit, making the WF-1000XM4 headphones easy to wear.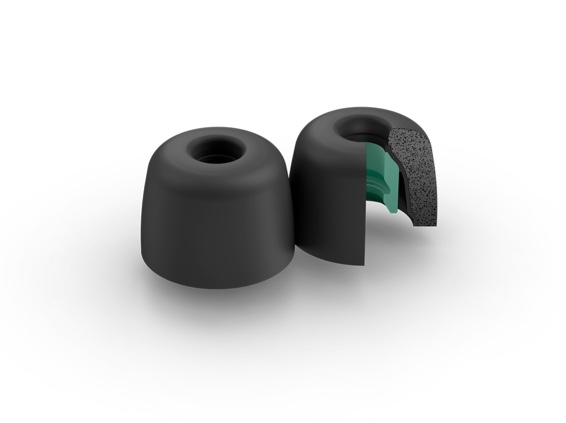 Minimising wind noise.
Even on windy days you'll stay totally immersed. Automatic Wind Noise Reduction mode detects when it's windy and automatically suppresses it.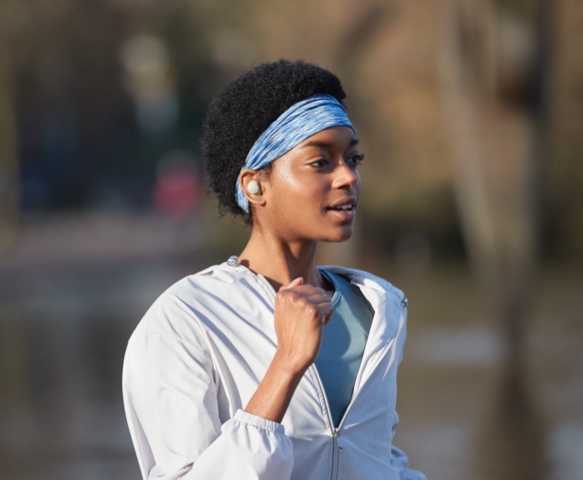 Hear more of what's around you.
In Ambient Sound mode, the WF-1000XM4 headphones capture more of the sound around you than ever before, which means you get a more natural listening experience and stay connected to your environment.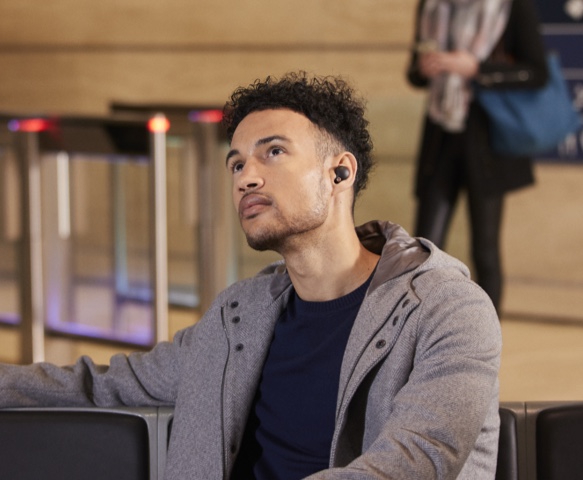 Exceptional sound quality.
The WF-1000XM4 now supports High-Resolution Audio Wireless.3Thanks to specially designed 6mm drivers, they reproduce a dynamic sound despite their small size, and the high compliance diaphragm reproduces a rich bass range. The Integrated Processor V1 also enhances sound quality and reduces distortion, and enables LDAC codec.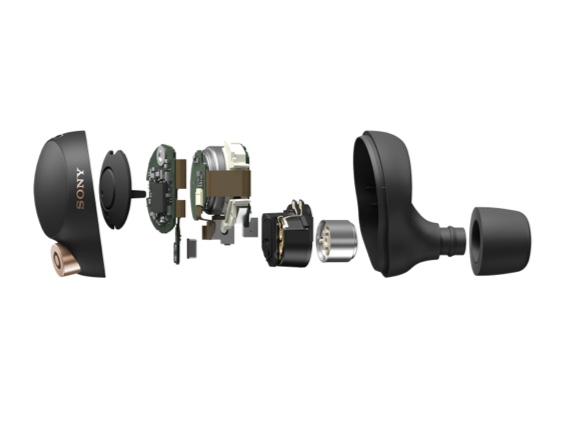 Smarter talking, smarter listening.
As soon as you speak to someone, Speak-to-Chat automatically pauses the music and lets in ambient sound so you can conduct a conversation  handy if you want to keep your headphones on, or your hands are full. And once your chat is over, your music starts playing again automatically. Speak to Chat recognizes and reacts to your voice. It is based on Precise Voice Pickup Technology, which combines four microphones and sensors with advanced audio signal processing.
Superior call quality.
Precise Voice Pickup Technology uses beamforming microphones and a bone-conduction sensor to allow the WF-1000XM4 headphones to pick up your voice clearly and accurately for hands-free calls  at home, in a café or wherever you are. In addition, Noise Cancelling lets you hear the person on the other end of the call more clearly, even in noisy situations.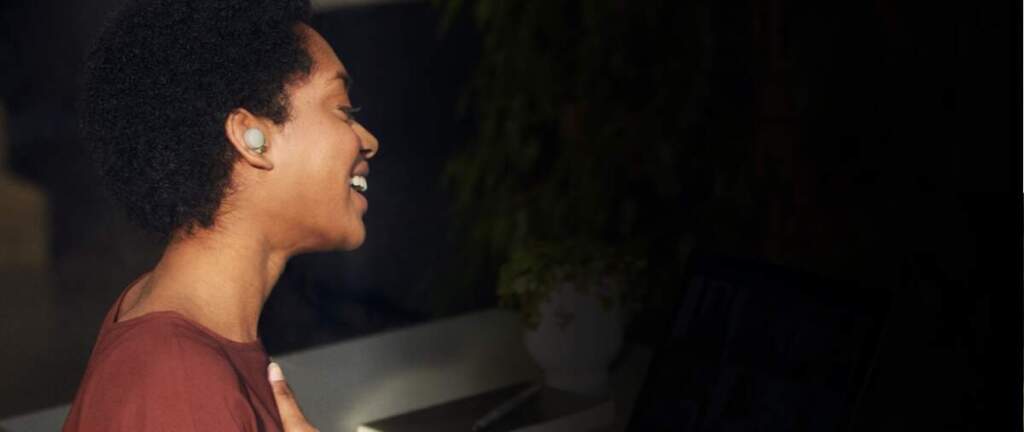 Control with your voice.
Get hands-free help. Just say Hey Google or Alexa to activate your preferred voice assistant. Enjoy entertainment, connect with friends, get information, listen to music and notifications, set reminders, and more.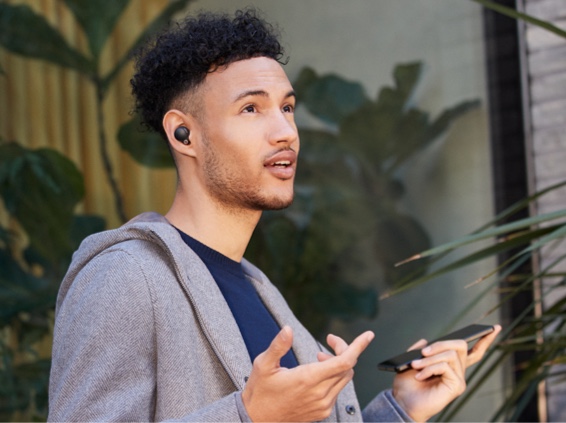 Find your headphones with Fast Pair .
The WF-1000XM4 headphones support Google's helpful new Fast Pair feature. In one tap, the WF-1000XM4 headphones enable quick effortless Bluetooth pairing with your Android devices. You can easily locate where you left your headphones by ringing them or checking their last known location on your smartphone. You'll even receive a notification when your headphones battery is running low so you know when to charge them.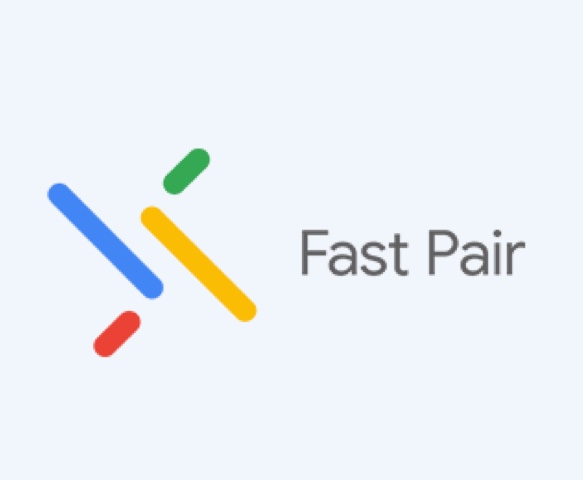 Easy pairing with your computer.
Swift Pair makes it quick and easy to pair your WF-1000XM4 headphones with your Windows 10 laptop, desktop PC or tablet. Pop-up pairing guidance appears on nearby Windows 10 devices when pairing mode is selected.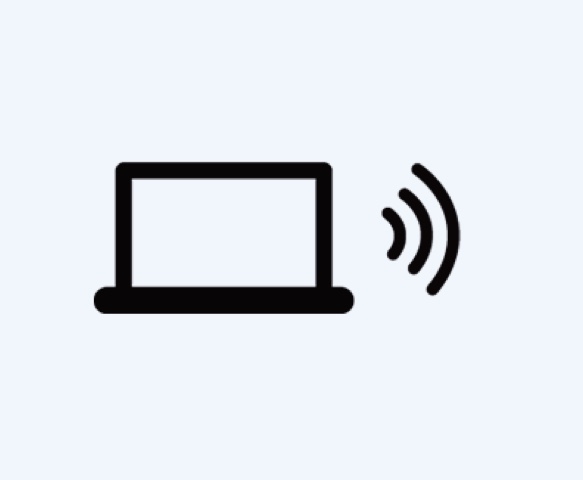 Ergonomic surface design for a better fit.
Since introducing the world's first in-ear headphones in 1982 (MDR-E252), we've surveyed huge amounts of data relating to ear shapes from around the world. The WF-1000XM4 headphones are the product of that research, combining a shape that matches the ear cavity with a new ergonomic surface design for a more stable fit.
Use the app to find your perfect size .
Find the right fit for your ears with the Sony  Headphones Connect app. It takes you through a few simple measurements to find the ideal size of Noise Isolation Earbud Tips to ensure maximum sound quality and minimum outside noise.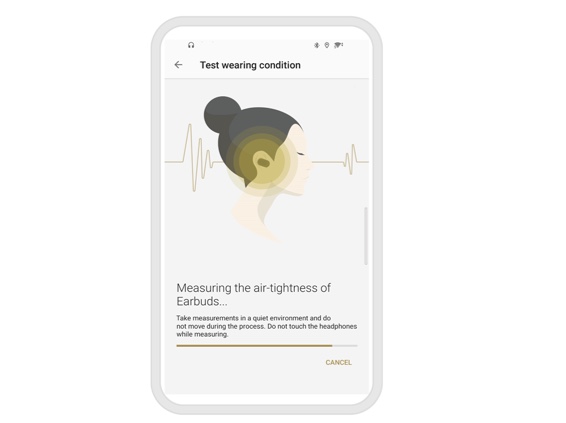 Perfect for TV shows, movies and more.
Watching video content on your smartphone or tablet? The advanced wireless connection on the WF-1000XM4 syncs what you see on screen precisely with what you hear on your headphones for more enjoyable viewing.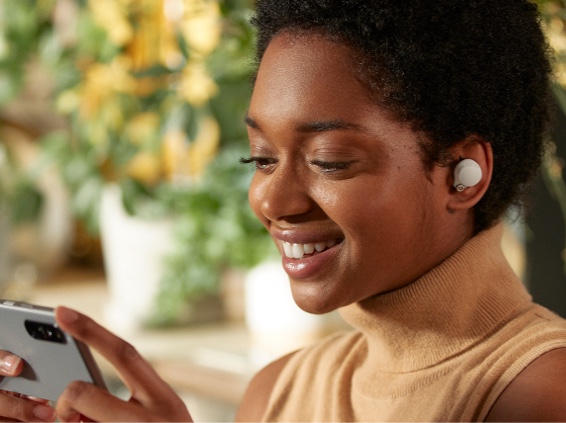 Water resistant for everyday use.
With an IPX4 water resistance rating splashes and sweat won't stop these headphones so you can keep on moving to the music.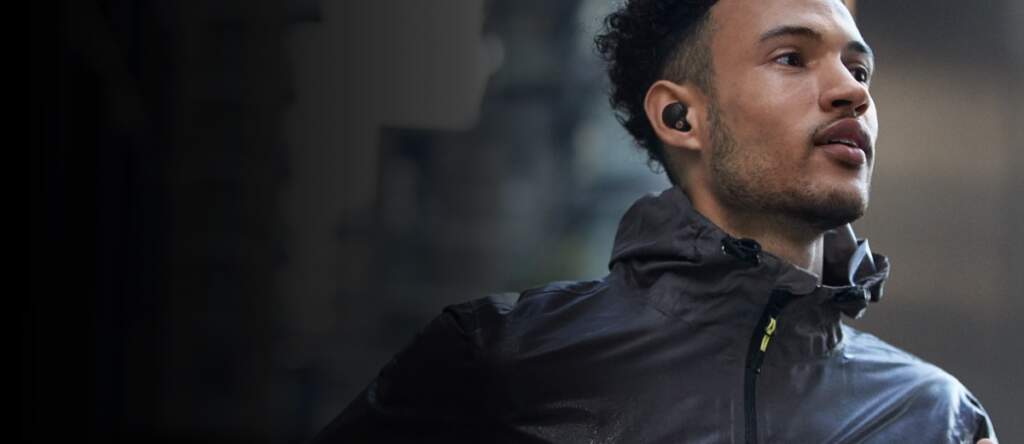 Choose your color.
The WF-1000XM4 headphones come in your choice of black or silver.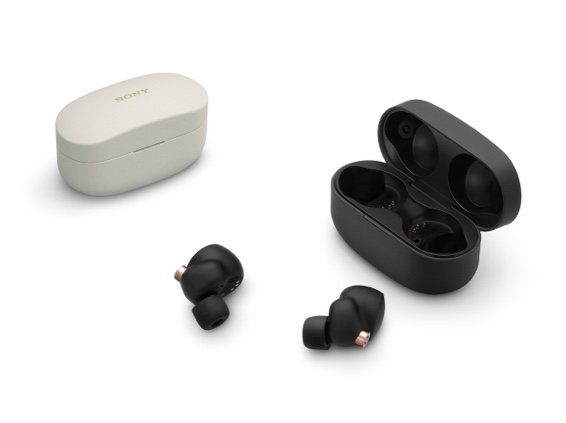 Smaller size, no compromise.
We redesigned the internal layout to make the WF-1000XM4 headphones 10% smaller than the previous generation, without compromising on sound quality or battery life. At just 7.3g, they're light enough to wear all day. The charging case is smaller too by 40%, yet still gives you 16 hours of on-the-go charge.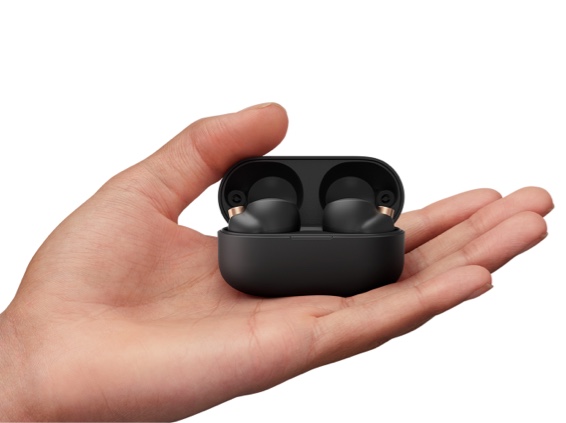 Better for the environment.
There's no plastic in the WF-1000XM4 packaging is designed based on low toxicity design principles and a 'Made to be remade" philosophy that's more socially responsible. 99% of paper packaging, other than labels, are produced using recycled and sustainable materials developed specially for Sony.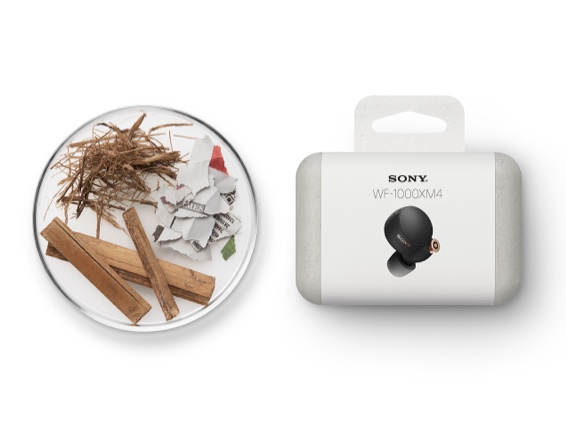 Specifications and Features of Sony WF-1000XM4 Wireless Noise Cancelling Headphones (Black)
| | |
| --- | --- |
| Weight | 41 g |
| Battery | Charge Time Approx. 1.5 hrs Battery Life (Continuous Music Play Back Time) Max. 8 hrs (NC On) / Max. 12 hrs (NC Off) Battery Life (Continuous Communication Time ) Max. 5.5 hrs (NC On) Max. 6.0 hrs (NC Off) |
| Connectivity | Bluetooth 5.2, A2DP, LE USB USB Type-C |
| Entertainment | HEADPHONE TYPE Truly Wireless , DRIVER UNIT 6 mm MAGNET High power neodymium magnets FREQUENCY RESPONSE(BLUETOOTH COMMUNICATION) 20Hz - 20,000Hz(44.1kHz sampling) 20Hz - 40,000Hz(LDAC 96kHz sampling, 990kbps) |
| Other Features | Water Proof Yes (IPX4) Noise Cancelling , AMBIENT SOUND MODE Yes , QUICK ATTENTION Yes , |